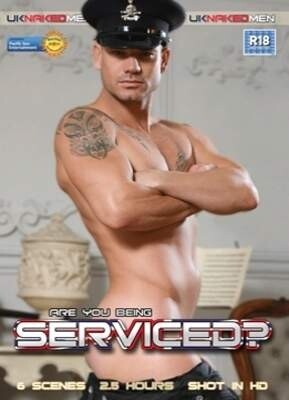 Cocksuckers, take note: Ross Hurston and Matt Hughes is a match made in heaven. Hurston is already one of the best performers around; put him on his knees with one of the biggest cocks ever in front of his face? Fugetaboutit! Anyone who can deep throat Hughes deserves a BJ Hall of Fame Award, and Hurston does it repeatedly as his manly grunts fill the air. The Hot House star returns in the finale of this six- scene effort, where Tyson fucks him in an incendiary scene that ends with a tasty load.

The latest from Web-based UK Naked Men blends blue collar and white-collar lust. Smooth chauffer Kurt Rogers brandishes his huge uncut cock in front of boss Pedro, dominating the action as he deep-fucks the businessman's mouth and ass. Neil O'Bryant — another smooth-skinned stud with a big rod — does the same to Andy O'Neill, who gets one of the film's many facials; while Dean Monroe (like Hurston, another model who hit it big in the States) gets fucked by hotel worker Lucas Knowles. But it's the threesome that has a surprise in store: a glass floor lends itself to awesome fuck shots as shaved-headed hotties Jorge Ballantinos and Mitch Collins take turns getting plowed by Harry Louis.
Synopsis:
The first XXX hardcore DVD released from UK website UKNAKEDMEN.COM! From the milkman who delivers in pints, the postman-always ready with a package, the hard-at-it office lads, the chauffeur who takes you all the way there and the waiter bringing it up "hot" to you in your hotel room, to the plain greedy straight bloke who just likes to be serviced. Six steaming hardcore scenes starring a gallery of uncut studs.