Santo Domingo 3: Dominican Dick Destruction
Flava Works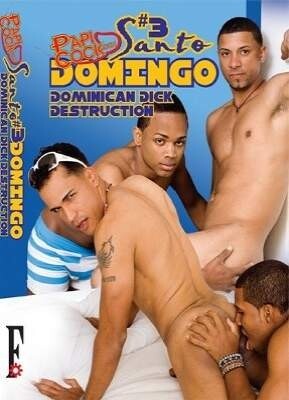 How can anyone resist the alliterative title of this Blatino bonanza, or its tagline: "These Papis are the Ultimate Latin Fuck Machines!?" Six scenes have big-dicked Dominicans getting dirty, and these sultry fuckers sure know how to seduce each other — and us. Lighter-skinned hottie Manguera Rubia takes charge of young and dark Lobo Negro in the opener, controlling his conquest with his forceful hands, voice and cock — a super-sized beauty that gets ample action in a lengthy fuck. The sensual Rubia gives his bud a facial, getting his own cum-soaked cock sucked again at the end.

His sexual aura is matched by La Makina, another lighter- skinned top who puts on a steamy show with Safiro. Their connection with each other is outstanding, and it's refreshing to see them take their time and enjoy each other's bod- ies before sucking and fucking. The two grind, kiss and stare at each other throughout — and Makina is an expert at grinding his meat deep inside. Chico Nemo shows off his alpha nature, grabbing hold of Rocka Way's hair as he fucks his face. Three more duos round out the action, and we're betting plenty more facials and the mammoth cock of Gabriel Gomez will keep fans entertained.
Synopsis:
In the latest edition of our Santo Domingo Uncut series, we have some of the Dominican Republic's hottest Latin men. We searched high and low for these hot, uncut papi's and they are eager to show you what a real PapiCock is. In each and every scene you will get to experience what the Caribbean truly has to offer; some of the worlds most gorgeous and hung Latino men.