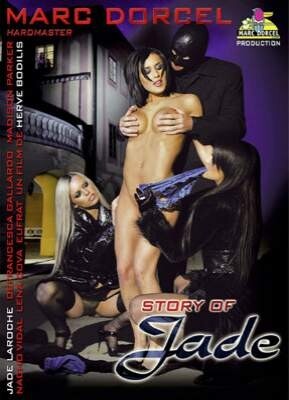 Jade Laroche, a matter-of-fact 19-year-old student and stripper, looks into camera, introduces herself, and gives a short sexual history inter cut with shots of her blowing a masked man. She describes her sexual fantasy involving her boyfriend, two girls and a blindfold, and then it is staged in a shadowy mansion with the added twist that she is stripped naked and re-dressed with a collar before getting butt-plugged and handcuffed on a bed. She is "rescued" by a guy who takes off the handcuffs, and she shows her appreciation.

The erotic activity continues long into the night, with Laroche alternately involved as participant and observer, and occasionally absent during scenes in other rooms.

Laroche is an attractive centerpiece of the video, alluring and beautiful, ready for anything and giving as good as she gets. Moody night-lit photography adds to the erotic atmosphere. Extras included on the disc are striptease clips, behind-the-scenes and trailers.
Synopsis:
Her name is Jade Laroche. She comes from Bordeaux, where she is a student and a stripper! For this brunette with gorgeous blue eyes, being in a porno movie was the only way to go to fulfill the limits of her fantasies. She has multiple submission fantasies, taken to a manor where Jade is quickly tied, licked and sodomized for her biggest pleasure submissive men, furious orgies, deep throat and double penetrations punctuate the "Story of Jade" which announces a great future for this young actress with a perfect body.