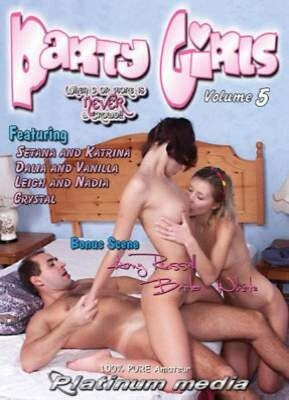 This is a no-frills look at swingers, in amateur-looking scenes with second cameras and camera flashes visible. It starts with Dalia, Vanilla and Jeppe taking a day cruise to a shore where they strip down and have sex in the open air.

The camera angles are uninspired and the mic picks up all the sound of the wind, as well as the chatter in some "unsubtitled" European language. The scene ends with both girls sucking Jeppe to climax on a rocky shore just as the sun begins to fade. Leigh, Nadia and Jason get together awkwardly in a hotel bedroom: No one is quite sure what to do or how to deal with the camera, and the scene proceed in silence with occasional whispered directions from the cameraman. After the pop, the girls proceed to the shower where there's a little playfulness as they clean up.

Setana, Katrina and Dave get together in another bedroom in a scene with some real pleasure, if not passion. At first Dave has some wood trouble (with three other guys in the room and a C-light up his ass who wouldn't?) but he rises to the occasion. Closer has Crystal doing a "Dating Game" where she has to choose between five studs and winds up doing them all.

Extras included on the disc are trailers, stills and a bonus scene.
Synopsis:
Cum Into the world of Amateur Swingers! These REAL Amateur Couples have no problem sharing their spouses in a "Everything Goes" relationship. These scenes were shot as these encounters happened. No Scripts, No Direction – How LUCKY can you get when your wife brings home a co-worker for Dessert.