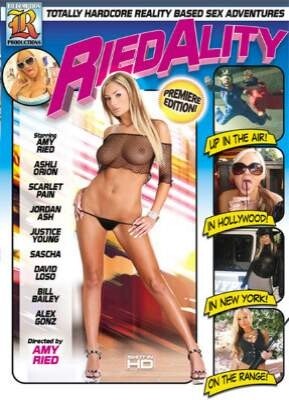 Amy Ried has one of porn's hottest bodies of all-time. She's been an A-list performer for since the beginning of her career so we were excited to see what she could do with her own line of movies.

The first movie from Riedemption Productions is called "Riedality," which features reality-based sex vignettes. The sex is fun, real and hot. This is a promising new release from Amy and her crew.

The movie starts off with Any of Ashli Orion at the mall. The duo runs into Sascha after a go on the merry-go-round and they can't wait to bang him in his truck outside in the parking lot, which is exactly what they do. After their public sex session, the girls return to the mall where we get to see them have some dressing room hijinks while trying on clothes. Now we really know what goes on behind closed doors at the mall, ladies!

Next stop: indoor skydiving with Alex Gonz at Universal Studios. Man, it looks like a lot of fun, but even more fun is the sex the couple has afterwards.

From the West Coast to the East Coast, Amy gets down (mostly) POV style with Justice Young in a NYC hotel room after a Times Square excursion.

Other adventures includes a trip to the amusement park and the gun range. Fun!
Synopsis:
My movie Riedality is a mix of hardcore sex and the reality of my life as Amy Ried. In every scene I take my sexy friends on a adventure and then we get it on. It is the most personal footage I have ever filmed. It's exciting because for the most part I am experiencing most of these crazy stunts for the first time with my friends. I only wanted to do this movie if I could make it raw so the viewer feels like they are really getting to know who I am.