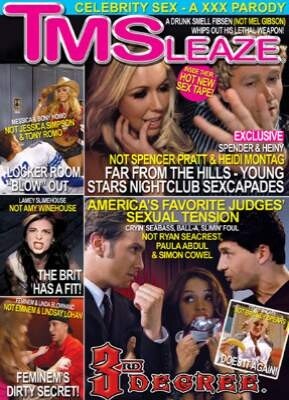 Third Degree, heretofore a purveyor of harder-edged gonzo porn, teamed up with adult blog PopPorn.com on the stellar new title "TMSleaze." PopPorn dispatched two of its marquee personalities, Brian Bangs and Spock Buckton, to direct the movie, which sends up celebrity culture as a whole while specifically targeting Harvey Levin's televised version of his online gossip mecca, TMZ.com.

Ron Jeremy makes his mandatory elder-statesman-of-porn appearance in a non-sex role as the Harvey Levin counterpart. Each scene features porn versions of notorious celebrities in flagrante delicto, starting with Tori Black, Francesca Le, Anthony Rosano and a goofily bewigged Ben English in a spoof of "American Idol" that challenges Ryan Seacrest and Simon Cowell to satisfy the horny needs of Paula Abdul and Kara DioGuardi. The always reliable Mr. Pete shows up as a take-off of Eminem who joins forces with Dane Cross to help Lindsey Lohan (Faye Reagan) take off her clothes.

Tony Romo and Jessica Simpson are the next targets, and relative newcomers Kagney Lynn Karter and Chris Johnson play out their steamy locker room encounter. Good old Randy Spears shows up to play raving anti-Semite Mel Gibson in a well deserved send-up of one of TMZ's best scoops. Sadly, the lovely Ann Marie Rios gives the drunk jerk the fuck of his life instead of punching his lights out.

The title also includes some surprisingly funny interstitial scenes that emulate TMZ's ambush-style interviews. The delectable Lisa Ann plays Janice Dickinson as a galloping drunk; Joanna Angel turns up as Amy Winehouse, and amazingly, the curvy Angel manages to make herself look like the emaciated pop star for the brief, hilarious bit.
Synopsis:
Welcome to TM Sleaze - a XXX parody of the television show, TMZ. We turn up the heat and the humor as you get to see what your favorite celebrities might look like when engaged in some uncensored hardcore humping!