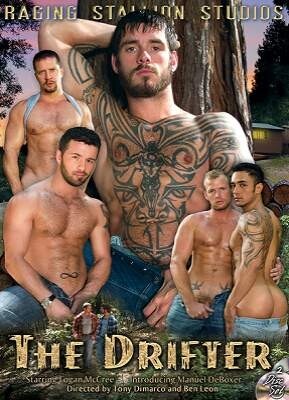 When it comes to superbly crafted, well-acted, location-based adult films with a real storyline not many studios can hold a candle to Raging Stallion Studios. While "The Drifter" doesn't feature much drifting (neither human nor vehicular) it does feature the incredibly hot Logan McCree and eight hunky men. The scenes are long, leisurely yet passionate affairs that draw you in and take you along for the ride.

The concept for "The Drifter" is simple: Logan McCree comes home to find his lover in bed with someone else and splits for a walkabout in the wilderness. He stumbles, soaked and freezing, upon a cabin deep in the forest whose owner, Vinnie D'Angelo, takes him in. You might think that scene has been played out a million times before but Vinnie is straight and much of the movie involves our studs getting to know one another and ultimately finding solace for their respective emotional wounds in each others' arms.

The opening sex scene is particularly exciting with Raging Stallion Exclusives Luke Hass and RJ Danvers tearing up the bed sheets during their affair. You'll find "The Drifter" to be an incredible film with its great location, real character development and fantastic sex scenes.
Synopsis:
In a small red brick flat in Germany, Phillip (Raging Stallion Exclusive Logan McCree) is quickly packing for his trip to Vancouver to see his new boyfriend (he mixed up the dates of his arrival). Making sure he has everything he stops to write a quick e-mail to the crush, hoping he has lots of condoms and lube. He grabs the last few items and is out the door and on a plane to Canada. Meanwhile, at the new boyfriend's apartment, RJ Danvers is rushing quickly to release his latest trick's (Luke Hass) cock from his pants. RJ takes Luke's thick cock in his mouth, deep-throating his engorged member. Luke then moves RJ to the bed and rims his hairy ass before he pounds his eager hole. Luke pounds away in many positions before RJ explodes all over his own hairy stomach. Luke quickly finishes unloading his man juice on RJ before collapsing into a passionate kiss. Logan, unaware of his boyfriend's infidelities, arrives at RJ's apartment with flowers in hand. Quickly he discovers the truth and he explodes in rage, hurling the flowers at the pair. An argument ensues and Logan flees the apartment, taking his camping gear.