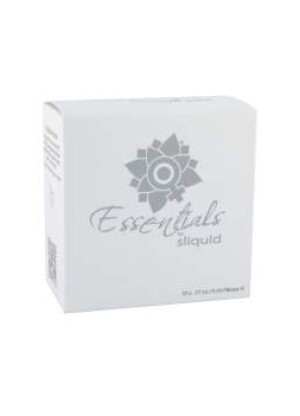 "We anticipate the new Essentials Lube Cube will fly off the shelves!," said Michelle Marcus, Director of Sales and Marketing. "Our newest Lube Cube includes all of our "essential" lubricants in travel friendly pillows for sexy adventures anytime." Each convenient Cube contains 12 pillows, including samples of top sellers from the Sliquid Naturals line. Sliquid products never contain any parabens, DEA, or sulfates and are 100% vegan friendly. The Essentials Lube Cube includes two pillows of each of Sliquid's bestselling formulas: H2O is Sliquid's Original water based formula. Created to emulate the body's own natural lubrication. Perfect for use with toys and condoms. Sassy is a water based and water soluble anal gel lubricant, formulated with additional plant cellulose to provide more padding for anal intercourse. Sea is a water based personal lubricant, blending natural seaweed extracts with our H2O formula. Extracts of Carrageenan, Wakame and Nori provide an added healthy boost. Satin is the first Sliquid product designed for daily use. This water based product was created for women who experience regular or periodic dryness, Satin will provide long lasting comfort with only a few drops. Naturals Silk is a water based personal lubricant blended with cream emollients and silicone to create a unique hybrid lubricant with a luxurious creamy texture. Naturals Silver is Sliquid's Premium formulation of pharmaceutical grade silicone personal lubricant. Super long lasting and 100% waterproof. ---------- CORRECTION ON PAST SUBMISSIONS: For each of Sliquid's products please use this sales contact email: sales@sliquid.com THANK YOU!
close
E-mail this to a friend
Essentials Lube Cube
Email sent. If you wish to send to another person, click here.