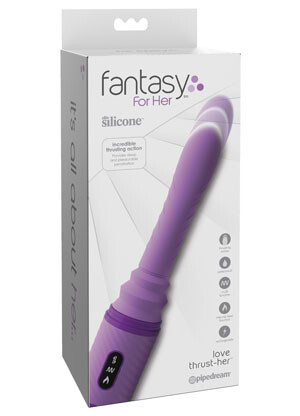 I'll tell ya, the world of sex toys gets more and more exciting, complex, technical and most of all, incredible. This silicone Love Thrust-her does just about everything you want a sex toy to do: it vibrates, warms, thrusts, is remote controlled, can be used as a dildo (when it's not vibrating), a regular vibrator, and oh, did I say it can be used hands-free when attaching it to the separate suction base that tilts the gizmo to any angle? Uh, yeah. It does all of that. Quietly, smoothly, efficiently. The illuminated control panel on the can-sized "power station," allows you to set the thrust, vibration and heating functions and the remote lets you change the thrusting and vibration action without having to reach down to do it. You won't want to because your mind will be on another planet while you use this. Love Thrust-her: we have lift-off.
For more information, contact Pipedream Products:
Product Description:
Box copy is written like an erotic novel, showing each user the possibilities while helping create a sex mood. She wanted to feel full. She wanted to enjoy a good pounding. But she also wanted to be in complete control. She didn't want conversation. She wanted an ultimate pleasure experience when she wanted it. That's when she decided it was time to enjoy some time for herself with her Love Thrust-Her, her ultimate companion which was always ready to grant all her intimate wishes. Product Features: Thrusting Action, Internal Heat Function, Powerful Vibration with Wireless Remote and sturdy, removable Suction Cup. Top portion is removable for easy cleaning and convenient storage.