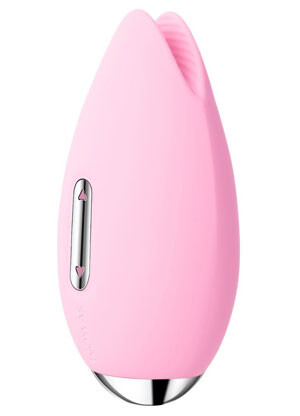 It takes a lot to impress with me with new toys these days. I have seen a ton and people are trying to come up with something different each day. Well today I did see something different and exciting — Candy from Svakom. I am so excited about this one and I think it will do amazing. There is not much like it on the market right now. This adorable little rechargeable item has a "kissing fish mouth" that is designed specifically for foreplay. It's the perfect little item to massage the clitoris and or nipples. Even along the labia it's delightful to play with. It has three vibration patterns and is made of super-soft silicone material. It is easy to use and you'll never want to put it down. I love this item.
Market Appeal You must have a tester for people to play with Candy in store. Once they see what it does and how it feels, they will be hooked. They have some awesome graphics and videos on the site that would be good to use in-store as well. There is a sister product called Cookie that gives the customer another option. Both are amazing designs.
Product Description:
Candy wand massager is a petite, powerful and pretty vibrator with unique and special appearance. Its soft lips will bite your clitoris gently and its vibration gives a double stimulation to clitoris. It's also ideal for caressing nipples. Candy is totally waterproof which makes it perfect for the bath or shower and makes clean up a breeze.