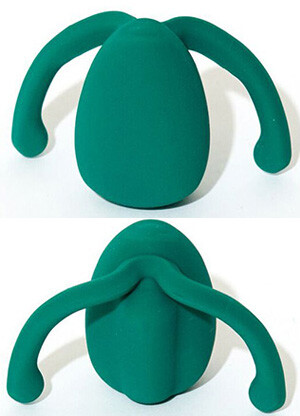 I never quite understood the appeal of the Eva hands-free clitoral vibrator until I got my lips around one. The tiny pear shape fits snugly against my clit, with the Eva's wings snuggled in between my upper labia. Sound like an anatomy science project? Don't worry, it's actually simple to use. The three speeds are conveniently located on the top of the all-silicone gizmo and can be changed with a simple touch, even during use. The compact size allows for simultaneous penetration or pleasant use under a strap-on. Most of all, it doesn't even look like a sex toy so you can leave it out when company comes to visit. Just tell them it's a cat toy.
Product Description:
As always, the sleek and unique Eva II gets you there without getting in the way, with flexible wings that tuck snugly under the labia while its body sits on top, allowing clitoral stimulation even during penetrative sex. And of course, it is still the first hands-free, strap-free, non intrusive couples vibrator, made of the smoothest silicone and allowing women to experience clitoral stimulation during intercourse, or while playing solo.