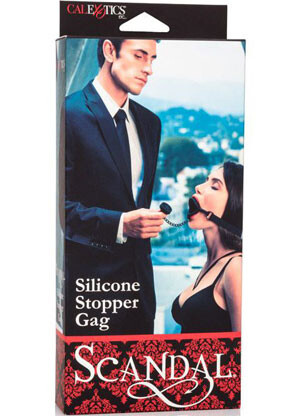 The Silicone Stopper Gag by CalExotics is unique. It fits around the head with an adjustable strap. The mouthpiece is actually one of the more comfortable ones we have ever tried. The bit portion that rubs on your mouth creases is soft silicone. With the stopper in place, the gag, resembling an open mouth, feels much like a normal gag. With the stopper out, the outline of the gag is flexible and allows the wearer to breathe and even speak clumsily. It looks like it would be fun to perform fellatio in this arrangement. However, the stopper gag has an edge in the mouthpiece. This ridge prevents the stopper from passing through the mouthpiece and into the mouth. This ridge is the reason we don't suggest the fellatio.
For more information, contact CalExotics:
Product Description:
CalExotics Scandal Silicone Stopper Gag is the ideal gag for any couple looking to push the boundaries of pleasure and explore their scandalous side. Experienced fetishists and bashful beginners alike can indulge in this sensationally versatile pleasure play with the open-mouth-optional gag. This ingenious gag allows dominants to open or close their sexy submissive's mouth with a thrilling silicone stopper. Dominants will love the range of pleasure they can control with this sensational stopper and sub's will love the thrilling release this delicious gag commands. Bring even your most erotic dreams to life and dive deep into your most adventurous desires with this wickedly versatile mouth gag.