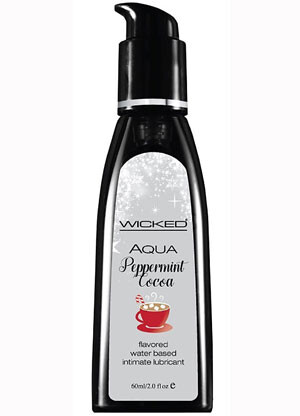 The Aqua Peppermint Cocoa by Wicked Sensual is a water-based personal lubricant that is dressed up and ready for the holiday season. Once open, this lockable pump-action bottle delivers a slick lube that smells like chocolate. It is water-based, so it absorbs relatively quickly, cleanly and efficiently. It produces no mess, but you might need to reapply often as needed.
Product Description:
The Wicked Sensual Care Collection Fragrance Free Aqua Water Based lube is incredibly luxurious and silky smooth. This unique blend of spa quality ingredients, enriched with Aloe & Vitamin E is so rich you will be surprised it is not silicone! Absorbs completely with no residue, AQUA is designed to heighten sensation & intensify ecstasy. Wicked has never felt so good.
AQUA is fragrance free, paraben-free, latex friendly, long lasting, never sticky, and vegan - no animal by-products or testing.