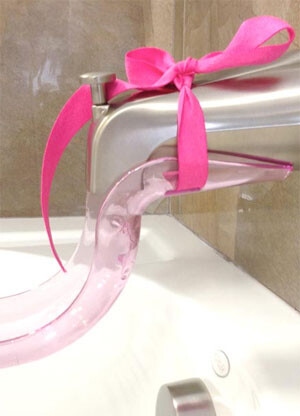 Not going to lie, I had no idea what this thing was for when I first got it. I had a few guesses, one practical and one kind of out there. But then I read the instructions and was pleasantly surprised to learn what this item is really for. Ladies, do you love some alone time in the bathtub and really enjoy the feeling of warm water splashing onto your lady bits? Wish the faucet was just a little easier to access? Well strap this baby to it and problem solved! Warm water flows down to your nether regions for an orgasmic time. Now I may never stop taking baths.
Product Description:
The patented WaterSlyde™, is a sleek plastic water diverter that simply attaches to most forward facing bathtub spouts. The water flow is easily directed to the midline of the bathtub, allowing a woman to comfortably position herself in the tub such that the water falls directly to where it counts. The bathtub technique, can be great fun but not always easy to achieve. Until Now!