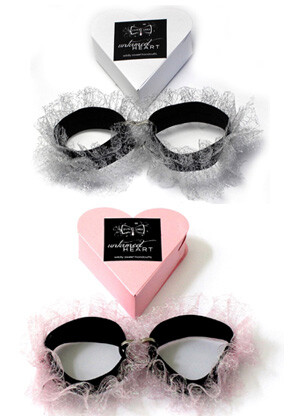 This is a great company for anyone looking for classy and sexy bondage items. Most items looking like you can wear them out on the town, then head home and use them to their full potential. These Untamed Hearts handcuffs are naughty but sweet. Elastic to fit pretty much all sizes with silver lace around the cuffs. Connecting the cuffs is a silver heart, I just love these. Awesome for someone who wants to play with being bound but still wants to feel sexy. It's also not intimidating, making it perfect for first timers. The packaging is super cute as it comes in a box that's shaped like a heart. These are lovely for gifting for any occasion.
Product Description:
Irresistibly feminine satin handcuffs! Sparkly mesh with silver heart center mingles with soft elastic for a sweet restraint that you can wear around your wrists or ankles. Where will your heart take you?
Comes in a heart-shaped box