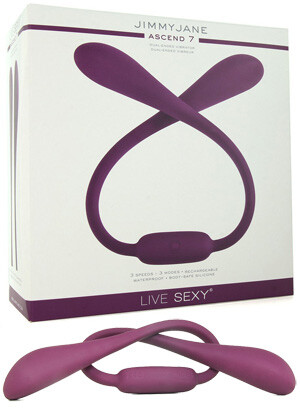 The Ascend 7 by Jimmyjane does not look like a sex toy. The box does not look like it contains a sex toy. It looks like it contains a rubber jump rope, but smaller, say, for a cat — or, an adorable ninja bola. Luckily for us, it is a sex toy. In this box is a unique, double-headed, vibrator made of silky-soft, body-safe silicone. We were so excited to use this thing. We scoured the box for instructions.
Though its general operation is self explanatory (buttons on the center piece at the halfway point between the two vibrating heads), the "What do we do with this thing?" — the better question is, "What can't we do with this thing!?" You can get as creative as you like.
This toy is small and smooth enough to fit comfortably in any hole. It is seamless and flexible. It's fun to use by yourself too. Hell, it was used once by wearing it around the shoulders as a back massager. The vibrations were strong enough for that. We are very happy with this toy!
For more information, contact JimmyJane:
Product Description:
Jimmyjane Ascend 7 dual ended rechargeable silicone vibrator is limited only by the imagination. This double ended intimate pleasure vibe features a powerful motor in each end of the flexible 23`` cord. Bend it, twist it, move it and share it, it`s perfect for reaching all your favorite spots at once. Use it solo for simultaneous internal and external stimulation as you position each motor to hit your perfect pleasure points. Or share ascend 7 with a partner for double the pleasure, and double the fun.
The unique, innovative shape inspires exploration and creativity. Flex your sex life! The Live Sexy Line of ascend Flex Vibrators are as intuitive as they are versatile. Each shape features a unique flexible design. They bend for ultimate comfort or reshape for multiple uses and exploration. With supple, body safe silicone, Ascend delivers powerful vibrations to your personal pleasure points. Premium medical-grade platinum silicone material is hypoallergenic and phthalate-free.
Simple one button control offers 3 vibration modes and 3 intensity levels. Waterproof design lets you enjoy it in the tub and ensures effortless clean-up. Ascend 7 is USB rechargeable with a high performance lithium battery. This powerful personal massager runs over 2 hours on a single charge. USB Charger is included.