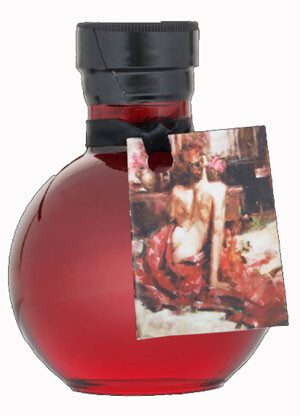 Olivia's Boudoir Unforgettable Massage Oil by Olivia's Boudoir is some attractive massage oil. The black and gold, thick, paper box is unpretentious. It looks like it belongs on the self of a small town boutique. Inside the box, an apple-red, glass globe of a bottle holds the massage oil. The round bottle fits perfectly into the palm of the hand. Again, the simplicity and classiness of this bottle only made us appreciate the product more.
As soon as we opened the bottle, we were pleasantly surprised. Most sensual massage oil has a fragrance that is over powering, or has notes of plastic. This massage oil has an intoxicating scent that likely will work double duty, being worn as perfume too. The product is awesome. And only made of coconut oil and fragrance. The friction can heat up the skin, and the fragrance comes to life in the warmth. This is easily a favorite!
Product Description:
Ohhh La La Cherie! Juicy ripe Gojo Berries, Frosted Jasmine, Gardenia Petals and Peach nectar make up the scents in this tempting oil. My massage/body oil is made with pure coconut oil. It is one of the beauty secrets that has been used for centuries. Coconut oil nourishes and moisturizes the skin, leaving it smooth and silky & lightly fragranced.