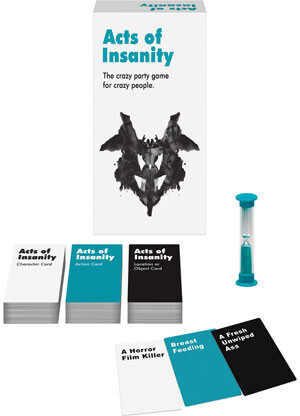 I love this game — my crazy friends love this game!
It's so easy to get started too. Separate into two teams and shuffle the three decks (consisting of Location/Object cards, Character cards and Action cards) and pick a card from each to act out a delightfully witty scenario. We acted out zany situations like "an ice cream truck driver groping at an orgy for the obese" and "a slutty leprechaun eating inside a coffin."
Throw back a few beers, invite over your favorite buddies and pull out "Acts of Insanity," you won't regret it!
Product Description:
The crazy party game for crazy people! The raunchy party game where you act out adult scenarios for your team to guess. The opposing team reviews 5 of each game card type and assigns you a Character Card, Action Card, and Location or Object Card. You then have two minutes to act it out for your team. Game Includes: 108 Character Cards, 108 Action Cards, 108 Location or Object Cards, a 2-Minute Timer, and Game Instructions. For 4-12 players.