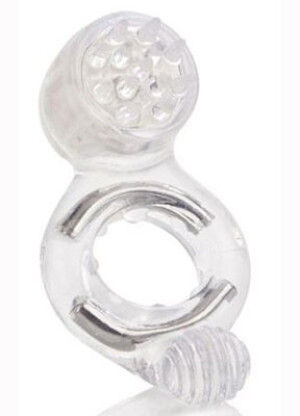 Raise your hand if you like a long-lasting penis! Need a little help in that department? Well not only does this cock ring make your penis harder and stronger but it also provides vibration to stimulate you and your partner.
But wait! It's not just your regular vibrating ring, this one has smart touch. It only turns on when it is pressed up against the skin, so you won't waste any vibration. The ring also has a little tickler ball down at the bottom. Depending on how you wear it, the little ball will add a little extra tickle to where it hits. Free lube is included too!
Product Description:
Touch sensitive vibrator works automatically on contact or can be turned on with the flip of a switch.
Embedded steel stimulator bars provide incredible support for him.
Love nubs and a thumping pleasure ball brings intense pleasure to her.
Ring provides a soft and comfortable fit.