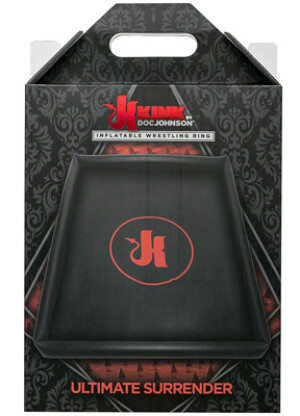 The inflatable ring surrounds a thick, smooth, tarp-like bottom. If you are feeling like you and your partner are in any form of a dry spell, this will pull you out of it quickly. Just set up the wrestling ring in a safe place, strip down, douse yourself in your preferred lubricating fluid of reasonable volume (we also suggest perhaps warming it a little as well), and dive in. Just try not laughing or smiling. The act of sliding around on the mat and around on your partner is a blast.
Clean-up was easier than we expected as well. We just brought the still inflated ring into the shower with us afterwards and then let it air dry. This is a fantastically fun toy and felt like it would withstand a few more romps at least!
Market Appeal
The Inflatable Wresting Ring by Kink and Doc Johnson is one of the coolest adult toys! It resembles a blow-up, bed-shaped kiddie pool except that it is black and emblazed with Kink's monogram. The idea is that the ring protects spaces from otherwise being saturated or messed up by the use of water or oil play.
For more information, contact Doc Johnson:
Product Description:
The Ultimate Surrender Inflatable Wrestling Ring truly transforms your bedroom into a Kink.com set for the no-holds-barred sloppy romp you've always desired. Suitable for nuru oil WAM watersports and all other messy play Ultimate Surrender's thick and durable floor and 5.5" inflatable spill-proof rim protect your carpets and furniture letting you fully immerse yourself in the action. Designed in Kink.com's sexy signature color scheme Ultimate Surrender is expertly crafted in durable black PVC and adorned with the iconic fetish brand's "Devil K" logo at the center. Dive in. Kink by Doc Johnson is an exciting collaboration with Kink.com to create a collection of high-quality authentic fetish items suitable for long-term practitioners and new initiates alike.