Fifty Shades Darker Kinky Fuckery Wild Couples Kit - Lovehoney
Lovehoney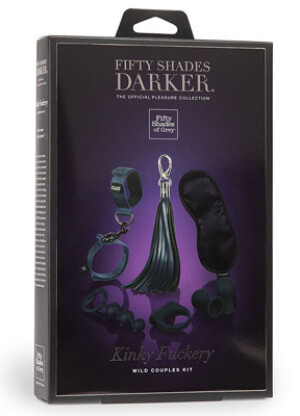 This is such a fun little kit. I love that this kit is an amazing entry level set into BDSM play. The toys are all beautifully made, sleek and elegant. I think this set would make an excellent gift for couples to give to one another. The packaging was nice and beautiful as well, thus making it a great kit for gift giving. If you know someone who would be interested in BDSM play then this is an excellent option.
For more information, contact Lovehoney:
Product Description:
Take your foray into kinky bedroom adventures to the next level of erotic excitement with the Kinky Fuckery wild couples kit. Keep hands under control with the strong, adjustable wrist cuffs and reach for the thrilling mix of toys and BDSM accessories.