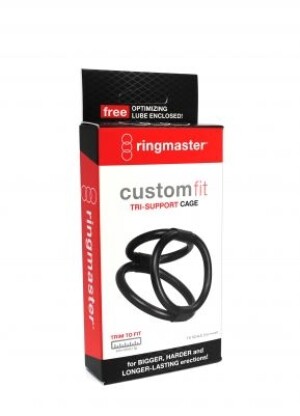 The Ringmaster Custom Fit Tri-Support Case is a trim-to-fit triple ringed cock ring system. It comes in a simple, no frills box, just big enough to hold the rings and a sample of lube. There is a nice, clear and to-size image of the rings on the front of the box, so you know just what you are getting.
Once out of the box, the toy gets a little less simple. Assembling this set-up was a two-person job the first time we used it. The idea is that you have a main ring and two attached rings held together. These rings are made by having a male end of the tubing clicking into a female end. You can trim the rubber female ends of the tubing so that the ring is made to fit just right. We had to use a wax pencil to mark the length needed and cut (away from the body).
Product Description:
Smooth and stretchy, trim-to-fit, triple ring system with quick release capabilities for easy removal.