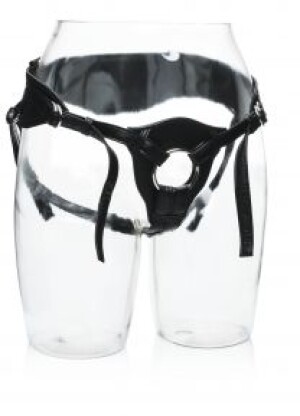 Product Description:
Claim your authority and command your lover's attention with this exquisitely crafted harness. Comfortable, durable, and designed for pure pleasure, grab on and hold tight. You're in for the ride of your life.

The Queen is the ultimate harness that puts comfort and durability at the top. The double-sided vegan leather is partnered with easy-cinch adjusters for the perfect fit every time. With an ultra-thick back strap, support and performance are number one. The removable silver ring is easily interchangeable with easy to use and discreetly hidden snaps. Go ahead and let your lover ride you hard. The soft and supple material will leave your skin feeling cloaked in luxury.

Step in, cinch tight, and slip your favorite dildo into this finely fashioned harness. The adjusters are easy to tighten and release, and the thick and durable straps are easily worn under your favorite attire for those rip your clothes off moments of passion you don't want to miss.