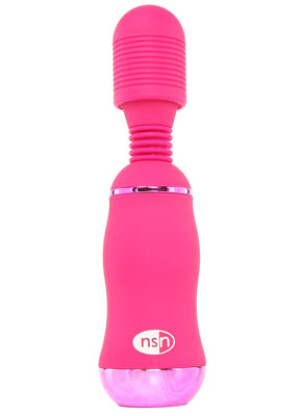 This little baby packs quite the punch… you might not want to put it down ever. Sexual stuff aside, this toy is so amazing to use on your back and muscle spasms. You can use it wherever you have trouble spots. Then, once you get your body relaxed you will be completely ready for sexual stimulation.
Stimulate all your sexual spots with its strong rumbles, multiple speeds and functions. Then, watch as the toy's flexible head moves with the curves of your body. Now, I can really de-stress all the parts of my body. So, it's perfect for much needed alone time or with a buddy.
Product Description:
Boomboom Power Wand Vibe knows how to bring on the vibes! Featuring 10 robust vibrating functions and 4 intense speeds, Boom Boom provides limitless combinations for the utmost in orgasmic pleasure.
Made of body safe Thermoplastic Rubber TPR and ABS plastic, this power vibe is elegantly designed and available in black, pink, and purple. Vibrator is powered by 4 AA batteries, not included. UPC 657447097300. Product dimensions 7.1 inches by 1.8 inches. Package dimensions 10.4 inches by 3.3 inches by 2.1 inches. Packaged weight 8.10 oz Product material ABS plastic. Vibrating wand requires 4 AA batteries, not included.