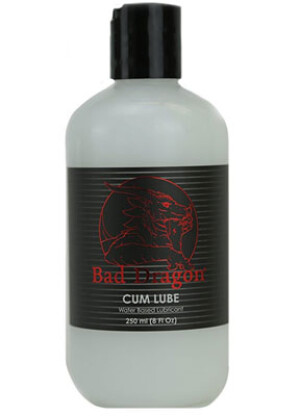 The Cum Lube by Bad Dragon is a personal lubricant designed to be used on its own, or partnered with one of the Bad Dragon wild ejaculating dildos. The bottle is adorned with a hilarious-looking dragon, stroking his chin, looking lost in provocative dragon thoughts.

It is water-based and impossibly stretchy. It reminds us of an old pizza commercial. The lube is slick and works well, but the strings it makes are hilarious. Just like the hot mozzarella in the pizza commercial, we found ourselves seeing how far we could get the lube to stretch before the string would break.

It has the look and feel of cum, especially if cum were drawn for cartoons, that stuff would be a great model. It doesn't have a scent (which we appreciated), and the color was spot-on.
Product Description:
Slick, slippery, and stringy, Cum Lube is similar in appearance to the real thing! It can be used alone or with a partner or can add an exciting twist to playtime.
Safe to use on silicone toys, and a fantastic compliment to all Bad Dragon products.
Whatever you use it for, Cum Lube is water-based, non-toxic, paraben free, made in the USA, and comes in sealed bottles.