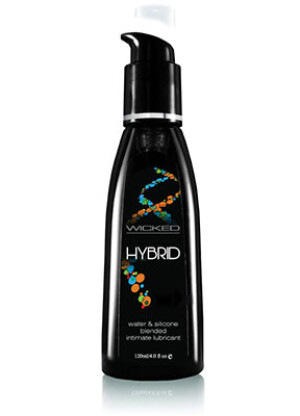 Hybrid by Wicked Sensual Care is a water- and silicone-blended personal lubricant. It comes in a sleek black bottle that resembles an edgier version of many lotion pump bottles. It claims to be the best of both types of lubricant and also states that it is safe to use on any type of sex toy material.
We generally go for a water-based lube when playing with silicone toys, and a silicone-based lube when we need the slickness to last. The lubricant starts off very silky, lasts for a long time, and doesn't get sticky. We enjoyed it enough consider it an easy "go-to" personal lubricant. It helps that you don't have to worry about grabbing the wrong bottle and ruining your favorite toy.
Product Description:
The best of both worlds! Super silky water based lube that's easy to clean as well as toy and latex friendly, blended in harmony with a rich bodied silicone that lasts and lasts. This fusion hybrid lube also includes seaweed extract for added glide and moisture. Wicked Hybrid is an excellent choice for all types of play.