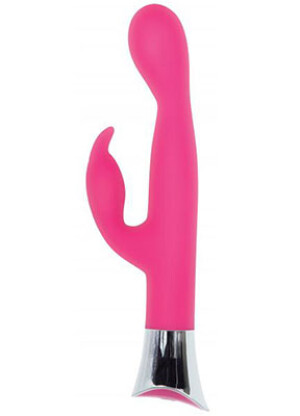 If you love rabbit vibrators, but want a slender design, this Silicone G-Bunny Slim by Adam & Eve is a great choice. I really enjoyed the power of both motors and it is extremely flexible. The 10 speeds of vibration, pulsation and escalation allowed me to experience various pleasures. It is made from high-end silicone, which is safe for the body and feels soft and silky. Best of all it is waterproof, so I was able to take it in the shower and tub for some wet and wild fun! The packaging is great for both retail stores and home parties.
For more information, contact Adam & Eve:
Product Description:
Get a jump on pleasure!
This bunny's slender shaft slips inside so easily! Once there, his flexible, angled, bulb-shaped G-spot massager tip goes right to work with lusty dedication.
At the same time, Bunny's ears tease, tickle and deliver thrills to the clitoris. That's because 2 separate, amazing motors deliver what you need with 3 speeds plus 7 different functions –– 10 settings in all.
The result? Bed-quaking out-of-body experiences, unspeakable erotic thrills and wordless joy –– from 2 different directions.
Take your A&E G-Bunny Slim into the tub or shower for special "me time" sessions that can tune-up your sexual mojo. Your A&E G-Bunny Slim is also at home in your bedroom, as part of foreplay and lovemaking.
Solo or with a partner, explore all your erotic options with just one amazing sex toy –– the A&E G-Bunny Slim. He's so cute (and powerful)!