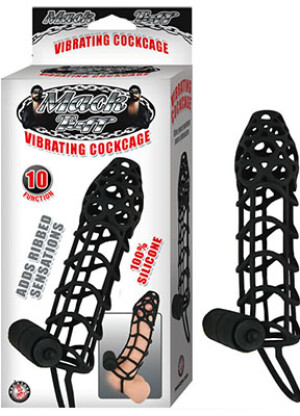 Sick of your basic cock ring with vibrator? Why not encase your whole cock with a silicone cage to add ribbed sensation as well? Nasstoys did just that with the Mack Tuff Vibrating Cockcage. The packaging sums up exactly what you should expect by showing what this device looks like on a dildo.
There is a whole lot going on with this product. It adds texture, it vibrates, it acts as a cock ring, and it is one of the more interesting looking toys in our collection. A ring near the base is used to secure the toy around your balls while the cage itself gives 7.25" of length and 1.5" of girth.
For more information, contact Nasstoys:
Product Description:
Give both you and your partner more pleasure with the Mack Tuff Vibrating Silicone Cock Cage. Premium silicone cock cage is durable and stretchy to provide pleasure sensations like no other. Seductively sculpted penis cage with ribbed texture for added sensations. Erection Enhancing pleasure device with support loops around both cock and balls. Enjoy a gentle squeeze for harder, longer lasting erections. Couple friendly vibrating cock cage delivers the buzz right to her hot spot. Perfectly placed vibro bullet offers pinpoint clitoral stimulation during intercourse. 10 powerful vibration modes to choose with easy push button control. Removable bullet is perfect for other sensual uses. Waterproof design lets you take it in the tub. Premium cock cage is crafted from 100% pure Silicone. Hypoallergenic material is body safe and phthalate free. Durable ABS hard plastic bullet. Cock cage for lovers measures 7.25`` in length with a 5`` girth (1.5`` diameter). Sensually stretches to fit most sizes.