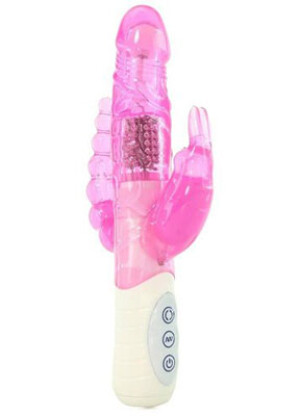 Triple toys can be a hard sell sometimes so you need a good one to do well. I have no fear this one will do well. It is very simple and good for a person who has never had a triple toy before, being that it is on the slender side. Triples on the market tend to be big and bulky and can scare people away. This one isn't as intimidating. You can control the vibrating and spinning separately and it's very strong in power. The shaft has three speeds of power and the anal and clit piece has seven functions. Lots of fun.
Product Description:
The Slim Double Penetration Rabbit from Hustler Toys makes your desire for extreme erotic play a reality. Experience double penetration with your pleasure as the ultimate goal. The Slim Double Penetration Rabbit simultaneously provides anal and clitoral pleasure, while the rotating shaft stimulates the G-spot. Experience an intense orgasm with this three-in-one pleasure tool. The smooth contoured head of this unique rabbit provides a realistic sensation as the three speed rotating shaft swirls, creating delicious friction that will have your quivering with pleasure. The seven-function vibrating rabbit hugs the clit and surrounds it with pulsating stimulation. The powerful vibrating bullet in the attached anal beads buzzes to bring you unrivaled anal stimulation. The graduated beads make this toy perfect even for anal play beginners. Featuring an easy-to-use control with LED, each vibrating motor can be controlled independently, allowing you to experience optimal pleasure. The Slim Double Penetration Rabbit is waterproof for erotic solo or couples play in the shower.