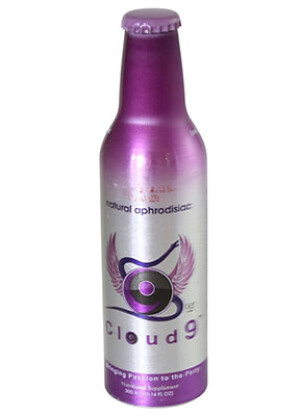 Are you feeling like you are almost there but just need a little bit of a push? Or do you really like sparkly beverages with the added bonus of it getting you in the mood? Then you are in luck! Cloud 9 is a delicious bubbly drink that tastes great, is super refreshing and has libido enhancers inside. Take your night and senses to the next level with natural aphrodisiacs that will get your body and mind energized and ready for a good time. It tastes great on its own or fantastic as a mixer with alcohol.
Product Description:
Cloud 9 blends a propietary mix of vitamis and extracts to produce a lightly carbonated, zesty and fruity combination. the drink is designed to stimulate and enhance, promoting "seductive energy" and boosted libido. It has been describeed as more of a euphoric sensation than a high-alert caffeine feeling.
For thousands of years, the pursuit of aphrodisiac substances has made explorers travel the seven seas and search the four corners of the world. But no need to look much further, Cloud 9 combines the power of carefully chosen herbal extracts used for centuries by ancient cultures around the world. 100% natural and scientifically designed for health-conscious lifestyles, Cloud 9 creates a sense of well being while igniting passion, helping deliver mental and physical boost needed to enjoy the greatest earthly pleasures.
The nine natural ingredients and botanicals are an exciting and unique difference versus other more traditional or artificially flavored beverages.
close
E-mail this to a friend
Cloud 9 Natural Aphrodisiac
Email sent. If you wish to send to another person, click here.