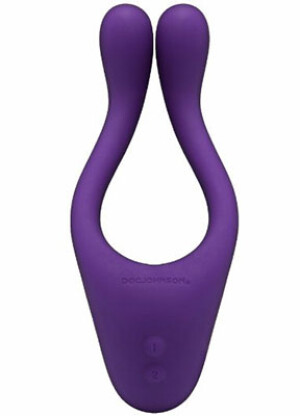 It takes a lot to impress me and my husband when it comes to couples toys. We have pretty much seen them all. But this little beauty has definitely impressed us, over and over again. Made for both the pleasure zones of a lady and a man. Wear it around the penis and testicles for his extended pleasure and let it hit her pleasure zones as well. You can also use it for solo play and to tickle the nipples with the flexible arms. There are three powerful motors with seven massage patterns to play with. You can also control the base of the toy and the arms separately for customized fun. Tryst is one of our new favorite things to play with.
Market Appeal
There are a few places around the store you can keep this. In your couples' high-end rechargeable area it would sell great, easy sell to a woman looking for a new couples toy or for the person tired of the average cock ring. Guys looking to impress their wives will love it. The package has a window so you can see the actual toy you are getting. It comes in a sturdy box with a sleek presentation.
For more information, contact Doc Johnson:
Product Description:
Encounter limitless pleasure. The revolutionary TRYST Multi Erogenous Zone Massager, designed with both men and women in mind, is as versatile as your desire. Wear TRYST around the penis as a solo vibrator or partner pleasing c-ring, or use the firm but flexible arms to stimulate the clitoris and nipples. With three powerful motors, seven mind- blowing massage patterns, and separate arm and base controls, TRYST is anything you want it to be. Accommodates all couples and solo play. Suitable for internal and external use. 3 powerful, quiet 7 function motors. Includes black satin storage pouch. Phthalate-free and body-safe. From Doc Johnson.