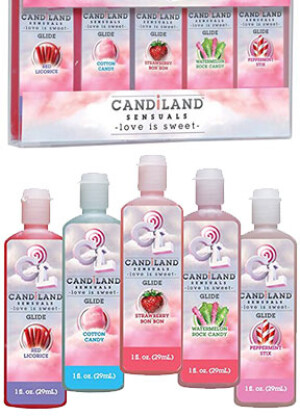 Any excuse I have to lick my husband I will take it. This five-pack makes that much easier and very delightful with all the options I have to put on him. Each flavor is unique and sure to delight your tastebuds. Free of sugars, parabens and glycerins means this water-based formula is great at making you naughty bits even tastier. The petite size of these lubes mean they are great for travel. Turn your lover into a different dessert each night of the week. You can even mix the favors for added fun. Satisfy not only your sweet tooth but your naughty one as well. It will be hard to put these down once you start. Great on ice cream too.
For more information, contact Doc Johnson:
Product Description:
Lick and love all night long with the candiland sensuals 5-pack. The perfect assortment of everything sugary, these long lasting, premium water-based formulas will satisfy your cravings for a deliciously erotic adventure. Proudly made in America.