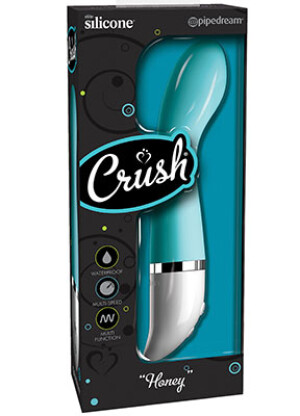 Pipedream has done it again with their amazing vibes. Crush Honey is on the larger end of the spectrum but extremely light and easy to handle. Crush Honey offers 10 tantalizing vibrations and there is something to be said about their choice in motor placement because it seems to hit exactly the right spots. You would think a vibe this size would be too loud to be discreet or distracting during partner play but this vibe is whisper quiet. I love the swollen tip as it's sure to fill my inner flower and its flexible shaft is tilted just so to reach my G-spot. Crush Honey by Pipedream Products is made from Elite Silicone so its velvety smooth, you almost get aroused just stroking it. It comes in one of my favorite colors (a provocative turquoise blue).
For more information, contact Pipedream Products:
Product Description:
Honey delivers incredibly pleasurable stimulation by combining ultra-intense vibrations with a cleverly curved design. Made from Elite Silicone® and ABS plastic, this waterproof vibe is smooth, sophisticated, and features ten powerful vibration patterns.
The velvety-soft silicone is sleek and seamless, while the super powerful motor provides intense vibrations where they matter most. The flexible silicone shaft cleverly conforms to your body's contours to reach your most sensitive spots. This makes Honey the perfect vibrator for both internal and external massages.