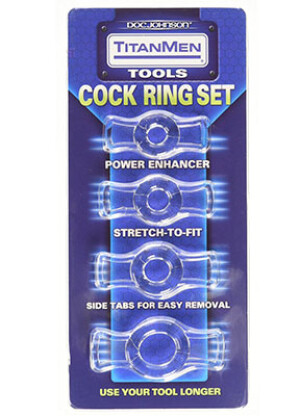 They don't come much more simple than this. A very nice touch are the tabs on both sides of the ring itself. If you have ever tried to manhandle sex toys covered in lube, you will know why these are appreciated. These tabs offer a method to apply and remove the product, making it relatively easy to do compared to other simple cock rings. Just be sure that you clean them off afterwards with warm water and soap, not by boiling or in your dishwasher or you will be left with a larger mess than you started with.
Market Appeal
If you are interested in a basic cock ring set, the TitanMen Tools by Doc Johnson is exactly that. There is absolutely no question about what you are about to use. A set containing four Thermoplastic Rubber (TPR) cock rings that increase in diameter to fit a majority of penis sizes and comfort levels. A clear, molded plastic, clamshell package displays the various tools for your tool.
For more information, contact Doc Johnson:
Product Description:
Please yourself or your partner with the most convenient and manageable Cock Rings available. These TitanMen Tools Cock Rings stretch to fit with the aid of easy grip side tabs, allowing the rings to be adjusted with ease.