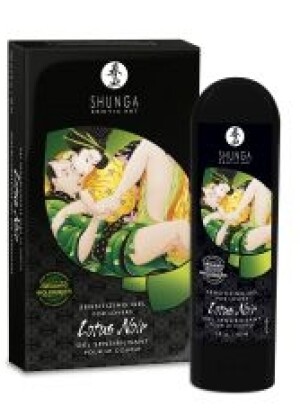 Product Description:
Lotus Noir is an external gel designed to intensify booth female and male orgasms. It acts as a stimulant and enhances sensations to experience intense pleasures together. It has its own beautiful box with a beautiful Shunga drawing on it. In fact, it's the drawing of the Organica collection because of its 100% certified organic ingredients. "That's one of the differences between Lotus Noir and Dragon cream. They are both for couples but Lotus Noir has 100% certified organic ingredients" says Manon Vallée Cofounder and Vice-President of Eau Zone Ltd. "Dragon offers a hot and cold effect, but with Lotus Noir you will feel a coolness only".

The Lotus Noir will be launched at the same time then Dragon Sensitive. "This sensitizing gel for couples was sold only in the Garden of Edo collection kit and a lot of retailers were getting demands only for the Lotus Noir gel. So we are selling it separately now" says Guy Roussy, General Manager at Eau Zone.