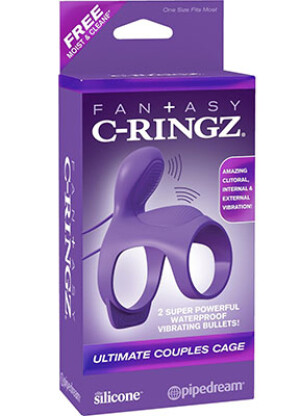 The Fantasy C-Ringz Ultimate Couples Cage by Pipedream Products comes in a bright purple box designed to hang conveniently on your sex toy shop's wall. The box contains a remote with two cabled bullets (that shockingly resemble a set of purple headphones), a silicone penis mini saddle (that you connect the bullets to), and a sample tube of lube and toy cleaner. The concept for the cage is good, and it would make an excellent bachelorette party gift!
For more information, contact Pipedream Products:
Product Description:
When you're looking for a pleasure ring that delivers incredible clitoral stimulation and internal vibrations at the same time, the Ultimate Couples Cage is the only choice! With a pair of super powerful vibrating bullets cleverly placed inside and on top of the super-soft silicone cock cage, this vibrating erection enhancer turns ordinary sex into mind-blowing marathon sessions! He'll love the tight squeeze, extra buzz, and rock hard erections, while she enjoys the wall-banging climaxes delivered by the powerful clitoral vibrations. You'll both love it when he performs like a pro and extends the fun! Made from our silky-smooth, body-safe Elite Silicone, the rear ring wraps around your cock and balls, while the front ring squeezes your shaft increasing your size!