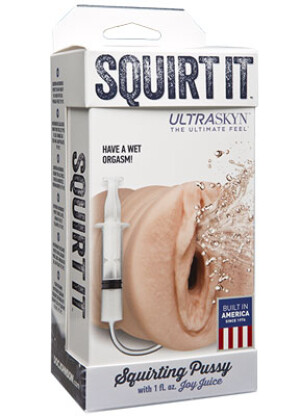 Product Description:
The innovative design of the lifelike Squirt It™ Squirting Pussy enables your male customers to enjoy the visual and sensual experience of a partner's squirting orgasm. Each Squirt It™ stroker is packaged with a 1 fl. oz. bottle of Joy Juice, a body-safe, vegan-friendly formula specially designed for use with the product's user-friendly squirt syringe. The Squirt It™ is crafted in ULTRASKYN™, our proprietary material designed provide the most realistic-feeling experience imaginable and warm to body temperature with use. Textured massage beads inside add stimulation, while the open-ended design supports easy cleanup.
Available in Chocolate, Caramel (pictured) and Vanilla. Proudly Made in America.