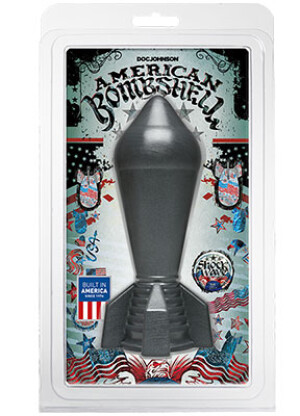 Product Description:
The American Bombshell™ ShockWave drops in with an insertable length of 6 inches and an impressive 8.5-inch circumference at its thickest point. The wide winged base makes the ShockWave safe for all types of action, while the tapered bomb shaft packs a heft and girth that the experienced players among your customer base will love. The award-winning military themed toy line also features distinctive packaging to push the collection's unique Americana aesthetic and grab the attention of consumers seeking these big, bold products. Available in Gun Metal and Cherry Bomb (pictured). All items from the American Bombshell™ collection are Proudly Made in America.

Why It Will Fly Off The Shelves: "Our top-selling American Bombshell™ line has always been enormously successful, and we've recently expanded the collection to include three new shapes (War Daddy, ShockWave, and Fat Man), as well as a new Cherry Bomb color option for all products in the line," said Doc Johnson' s Director of Product Development Cheryl Hanslip. "As an added bonus, select shapes from the collection (in both colors) have also been upgraded for Vac-U-Lock™ compatibility, making them even more accessible to consumers. These new additions have already exceeded initial expectations, and will only continue to increase the line's popularity."