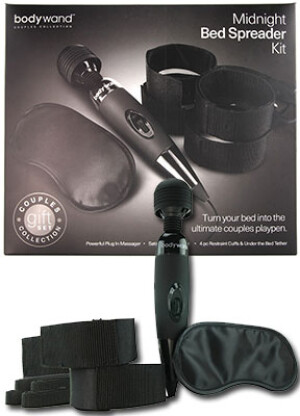 This kit could be all you need for the perfect kinky encounter. For those looking to add a little or quite a bit of spice, this is the ideal six-piece set. As soon as I saw this set I knew I was going to enjoy being bad. We decided to use it during our weekend staycation at a local hotel. My partner blindfolded me and secured both my ankles and wrists to the bed and I was spread eagle and at his mercy. The restraints were strong enough to secure my tugs of ecstasy but very comfortable. Just as I was lying there anticipating what was to come, I felt the amazing vibration of the Bodywand. I didn't even hear him turn it on. It wasn't long at all before he was flooded with what felt like wave after wave of climax.
Market Appeal
The kit comes a black satin blindfold and four under-the-bed tethers that allow you to secure your naughty victim from head to toe. The restraints are long enough to secure for almost any size bed and can also be used independently as cuffs or affixed to other objects such as chairs, bed posts, tables, etc. Let your creativity run wild. The Bodywand is a powerful yet quiet electric powered 10-inch dream. It stays true to the name and comes with the flexible neck and long handle to allow for hours of massage and playtime.
For more information, contact XGen Products:
Product Description:
Absolutely packed with creative playtime potential, Bodywand presents a super-sexy combo of light bondage essentials plus a classic Midnight Plug In Massager in jet black. Boasting tons of rave reviews from pleasure seekers everywhere, the Midnight Plug In Massager showcases completely toe-curling power and a easily maneuvered shape perfect for enjoyment during sex and foreplay, not to mention solo love. A standard AC cord plugs into any free socket for on-demand stimulation- lots of cord length allows for more than enough room to move.
As for the Bed Spreader set, it's a perfect complement to the Bodywand or other favorite toys- in either case, a sense of playful adventure is a must! Slipping under any mattress or box-spring, a long tether connects to a pair of adjustable velcro cuffs at top and bottom. Secure wrists and ankles in any combination desired before masking the eyes with the included soft satin blindfold. Cuffs easily fit most.