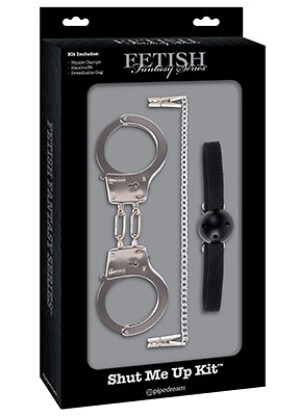 Curious about a kinky bondage scene? This is the perfect kit! I used this on my submissive and had her squirming with pleasure every step of the way! It comes with handcuffs, a ball gag and nipple clamps. The handcuffs are very high quality, I like the fact that it has double chains on it to ensure your sub won't get away so easily; at the same time they have safety release switches for emergency situations or in case you lose the key from so much excitement. My sub isn't a fan of the ball gag but she surprisingly took to this one very well because it has holes in it, making it very breathable; which secured her confidence in this device. We LOVED the nipple clamps. They're attached by a chain and they're shaped like mini clothes pins but they don't have the extreme pressure that a clothes pin provide, which is good for beginners.
Market Appeal
This set was well packaged, everything is highly visible through the clear screen, so you see what you're getting. The box is black and smooth. You won't regret using this set to bring your fantasies to life!
For more information, contact Pipedream Products:
Product Description:
Turn your bedroom into an erotic playground with this incredible first-timers Shut Me Up Kit. Everything you need to explore your fetish fantasies is included in this kit! The possibilities are endless...and so is the fun!