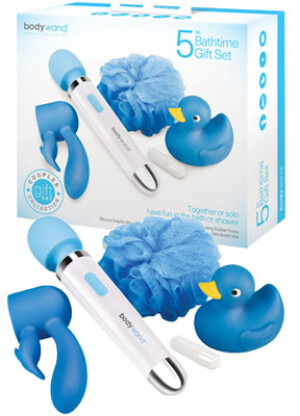 Kits are the hot thing these days. I mean why not, you get everything you need in one box. Makes shopping a little easier when someone can point you in the right direction. Need an idea for bath time? Xgen has a great grouping of items to make any bath a sexy good time. The kit includes five amazing items for all sorts of play. It includes a wonderful, strong body massager, an adorable vibrating rubber ducky, an attachment for the wand, a bullet and a vibrating massaging sponge. It's refreshing to see all the items in this great shade of blue as well. Now all my baths will be extra fun. Even if it's just the ducky floating around!
For more information, contact XGen Products:
Product Description:
Together or solo have fun in the bath or shower. There is no better way to relax during bath time than with the 5 piece Bodywand Bathtime Gift Set. This gift set comes complete with submersible, 100 percent waterproof, battery powered wand, optional dual stimulating insertable dolphin extension, massaging body proof with waterproof vibrating bullet and a cute vibrating rubber ducky to float around while you luxuriate.