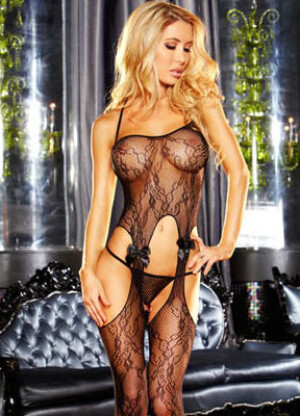 While this may not be appropriate for the next neighborhood BBQ (unless it's a BBQ/orgy), this is a great little number to get your partner turned on — or to clean in and feel sexy while doing it. Whatever makes you happy. Me, I would do both. I would also wear if over a leotard and do a sexy dance routine in my living room. Best thing is, its crotchless! So you can wear it and still have easy access to all your down there lady parts. Great for all body types. The bows make it classy and fun. Perfect for any romantic encounter.
For more information, contact XGen Products:
Product Description:
A sexy bodystocking with spaghetti straps. It's crotchless and features cut outs on the outer thighs. Two bows on the front. Perfect for any romantic occasion.