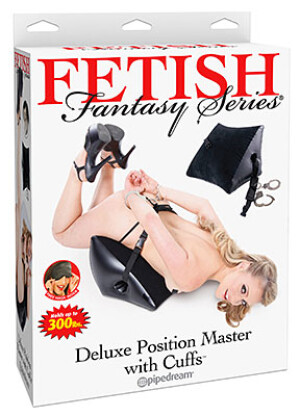 Comfortably restrained comes to mind when I play with this piece by Pipedream Products. This is a great positioner piece or restraint pillow that inflates to a hollow triangle. The Deluxe Position Master with Cuffs by Pipedream Products is perfect for beginners in the kink scene. What I love is that it's a small and light piece that is very easy to travel with. This positioner pillow has a hollow middle that the optional nylon strap can be secured too, making it great for any sub to be comfortable while restrained. It also comes with metal cuffs (and the key); however, there is a safety latch in case the keys are misplaced.
The soft black velvet flocked material feels great on the skin and allows for more comfort while being restrained. This restraint kit holds up to 300 pounds of combined weight and has a inflate valve to make set up and break down simple and quick.
For more information, contact Pipedream Products:
Product Description:
Let your imagination take you beyond your physical limits with the incredible Deluxe Position Master with Cuffs. This inflatable position pillow has a hollow center designed to anchor a super strong nylon strap, which then connects to a pair of heavy-duty metal cuffs. Once your subject is bent over the wedge-shaped pillow and strapped in, they're unable to move or escape while their hands are cuffed to the strap's heavy-duty O-ring centerpiece.