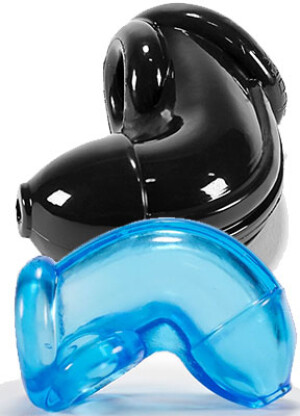 The Cock Lock by Oxballs comes in an electric yellow and black plastic tear away bag. The front of which is clear so you can see the rubbery, phallic-shaped cock restraint. With the help of a small amount of lube, the Atomic Jock is simple to get on. The design is straightforward and easy to figure out how to don. We found it restrictive, but not in a painful way. Keeps your goodies in a firm package, without becoming too uncomfortable. The area that grips the testicles is a small exception, as it is a little snugger than the shaft. The toy in general, is unintimidating and would make a great starter for a couple just getting into cuckolding.
Product Description:
This Cock Lock Cock Cage from Oxballs is made from super soft TPR and stretches to fit even the most eager sub's leaking member. Features a small opening at the tip allowing for easy bladder emptying and extended wear. The perfect toy for ones who love chastity play but hate ruining the spontaneity by trying to fiddle with rigid plastics or metals and teeny padlocks. Water-based lube safe.