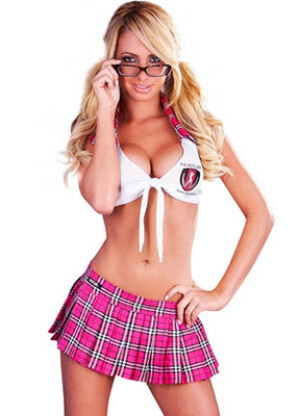 Have you been a naughty schoolgirl or have you ever just really wanted to feel like one? Well now you can unleash your inner teacher's pet with this sexy little number. Dress up and have a naughty bedroom lesson on how to make each other squeal with pleasure. The skirt shows off just enough booty to get your partner's juices flowing. The top shows ample cleavage but the tie adds just the right amount of class. How could you not take me seriously sexy in this get up! No matter where or when you wear this, you will be head of the bedroom.
Product Description:
This Sexy Schoolgirl takes her sweetness to the bedroom with an adorable white tie-front cropped top with a playful collar and Hustler emblem that proves she's learned the meaning of sexy from the experts! The matching pink plaid skirt completes the hot look!
Fabric: 90% Polyester 10% Spandex Knitted Halter Top 100% Cotton Woven Mini Skirt
Care Instruction: Hand wash cold, Do not blench, Line dry, Do not iron, Do not clean