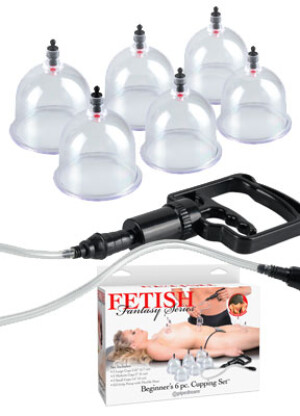 Kinkster alert! This cupping set will give you a night you'll never forget! The cups come in pairs of three different sizes and heat isn't necessary as this is solely a pressure-based system. For the BDSM player like myself, this toy will be very intriguing to your submissive-type partner. I put massage oils on her body and let the pressure build on certain areas. The cups are easily removable through the pump tubing, which allows you to keep the cup in place while pumping another cup in a different area. This is a great system that I highly recommend to all beginners in any sort of kink play!
For more information, contact Pipedream Products:
Product Description:
Add the sensation of suction to your fetish play with this Beginner's 6pc. Cupping Set. Based on ancient Chinese cupping therapy, these modern day plastic suction cups create a powerful vacuum that stimulates your hot spots and delivers amazing sensations. The suction action gently increases blood flow and excites your sensitive nerve endings, creating a one-of-a-kind feeling unlike anything you've experienced.