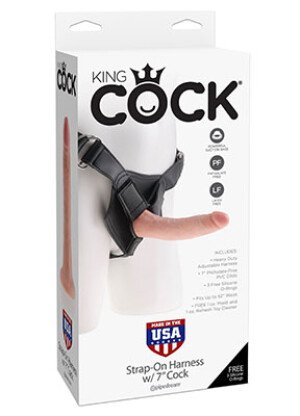 If you're looking for the ultimate bang for your buck this is the product for you! This product comes with a dildo, thong-type harness, three silicone O rings, a sample pack of toy cleaner, and a sample pack of lube. The harness fit comfortably and the waist goes up to 52 inches with metal buckles. It feels very soft and doesn't pinch on any part of my body. Velcro holds the O-rings in place. The dildo looks and feels very realistic and is true to its seven-inch size listed on the packaging. It's latex and phthalate free, and hypoallergenic, which spells fun all night long!
For more information, contact Pipedream Products:
Product Description:
When you want your first strap-on to look and feel just like the real thing, the King Cock Strap-On Harness is just what you've been looking for! Every vein, every shaft, and every head is carefully handcrafted with exquisite detail to give you the most realistic experience ever imagined. The wide suction-cup base fits snug into the harness for a secure fit and can even be used without the harness – stick it to any smooth, flat surface for wallbanging fun. Made in Pipedream's state-of-the-art rubber manufacturing facility, every King Cock is phthalate-free, latex-free, body-safe, and hypoallergenic.