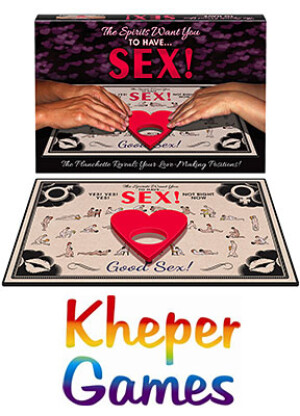 Looking to add a little spice to your regular routine. Maybe you think you've tried all the good positions and there aren't any left. Well look no further, this game is here to guide you through your sexual adventure. Based off the similar scary game we all know and love, this one tells you more exciting things however. Ask the spirits to guide you to your next sexual position. Keep asking for more fun. Hopefully they steer you in the right direction and you don't get the "not right now" area because that's not fun. But I'm sure if you ask again they might be nicer.
Product Description:
The spirits have spoken and they want you to have SEX. You and your lover place your hands on the planchette, with it placed in the center of the game board. Then you ask the spirits to help you figure out what sex positions to try. You also ask it Yes or No questions about kinky things you think your lover might want to try.

Includes a 15.5 x 10 inch Spirit Board and a plastic planchette.