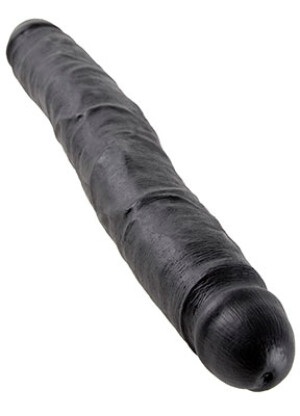 What's better than watching your partner's "O" face? Matching "O" faces. This double header is perfect for couples play, but will also work for solo playtime. The look and feel of this double trouble item is so realistic. The intricate veins, the tapering of its head and shaft, the realism in its flexibility is perfect for various holes. When using this it was able to comfortable fit into both of our precious pockets without eithers experience taking away from the other. This will also work well for double penetration. The material lends well for easy cleaning and storage and is definitely one that will put you to rest after an amazing release. This twin gem comes in flesh, brown and black, is 12 inches long, and its girth is 4.75 inches at the largest point.
For more information, contact Pipedream Products:
Product Description:
Do you want your first dildo to look and feel just like the rock-hard stud you've always fantasized about? Stop dreaming and get down with the King! Every vein, every shaft, and every head is carefully handcrafted with exquisite detail to give you the most realistic experience ever imagined. Made in Pipedream's state-of-the-art rubber manufacturing facility, every King Cock is phthalate-free, latex-free, body-safe, and hypoallergenic. Best of all, King Cock is proudly made in the USA so you can enjoy every masterpiece with confidence.
• Length: 12" (30 cm)
• Width: 1.4" (3.6 cm)