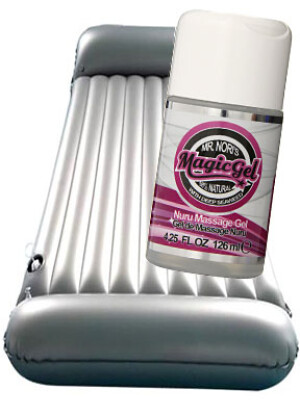 We were sent Mr. Nori's Magic Gel and an awesome full-size inflatable mattress by Nori Fields, which made for the ultimate combo. It comes as a tub of concentrated goo that can stretch impressively far. The bottle says dilute 1:1 with water, but really you can add as much or as little as you like for desired consistency. The inflatable mattress pumped up in under five minute to a size that was over seven feet by four feet. The goo is extremely slick and provides a great oiled up look. It is a simple rinse to wash off, and that is good, because there will be tons of it everywhere. Despite the cleanup effort, this product was well worth the time. It is fun to use and can double as a guest bed.
Market Appeal
This is a really fun set. Showcase Magic Gel with the company's unique fountain display to show off the unique viscosity of this gel. The company also offers an informative video to provide the how-tos. We recommend selling the gel with the mattress as a combo.
Product Description:
Amazingly slippery, crystal clear and ultra concentrated for customized texture potential, Mr. Nori's Authentic Magic Gel was created to intensely enhance the full body contact art of Japanese inspired Nuru massage. This blissfully sensual act envelopes both partners in silky, skin-nourishing gel, which, as bodies meet, touch and glide over the other, spreads into a layer of friction-free smoothness.
The Premium Nuru Air Mattress is the thickest and most comfortable air mattress in our line of accessories for a truly splendorous Nuru Massage.